Share this:







Is family Bible study one of your New Year resolutions? We can help!   
Family Bible study is one of the most valuable gifts we can give our children. Important concepts, interesting facts, valuable lessons, treasured memorized verses and more are some of the benefits reaped from sitting down together with an open Bible. Our Growing Up In God's Word series can help you get started with topical studies or in-depth studies of individual books of the Bible. Click here to check out our low prices and to shop our great selection.

  Our newest title in the Growing Up in God's Word series is a study of the Judges. The book of Judges is filled with violence, idolatry, and immorality but also with the mercy, love, and hope that God offers His people. Click here to view a sample lesson.

Pryor Convictions Media is pleased to offer you great products and services in the following areas: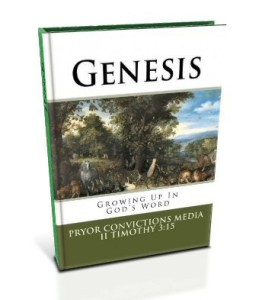 Growing Up in God's Word Bible Curriculum for Kids       
Helping parents to teach the Bible to their kids and foster a love of God's Word. Scroll down to read about all of the great features of this curriculum as well as enthusiastic reviews by home-schooling bloggers! Sample lessons of each available book may be viewed at our Product Catalog page.
Family Resources
We offer books for women, teens, and children such as devotional books, cookbooks, and readers for kids.
Blog posts on topics ranging from homeschooling and tips for memorizing scripture to getting rid of ducks in the attic! Receive help, humor, and encouragement with these posts.
How-To's: Step-by-step instructions with photos on great Bible crafts, recipes, and family activities. Check it out!
Bible Resources 

"Growing Up in God's Word"
Bible Curriculum Series for Kids
Biblically sound curriculum that teaches the Bible by using the Bible and incorporating review and enrichment activities. Features of this curriculum include:
Multi-age: Written for families with children of all ages
Research:  Dig deeper into the word of God and learn to study the Bible
Memory Work: Scriptures and lists to memorize with each lesson
Map Work: A visual aid for the locations you read about in the Bible
Puzzles, Games & Crafts: Multi-sensory activities to aid in review
Written for elementary through middle school-aged children
Adaptable for Bible class, VBS, and co-ops
To view sample lessons from each book in the series, visit our Product Catalog page.
"…from childhood you have known the Holy Scriptures, which are able to make you wise for salvation through faith which is in Christ Jesus."   (II Timothy 3:15, NKJV)
What others are saying about "Growing Up in God's Word"…

"FANTASTIC stuff!! I loved how the chapter was sectioned into small chunks and explained a little at a time. Super lesson plans and explanations too!"  ~Lisa S.
"I just purchased Acts Pt. 1 and it is helping me tremendously in preparing to teach Acts to our 5th graders. Thank you for your great work!"  ~Kim D.
Check out reviews of "Growing Up in God's Word" Bible curriculum from these wonderful bloggers…

      Coming Soon…
We are working on new projects all the time! Subscribe to our monthly newsletter for further information and release dates as well as encouraging articles, fun activities, and how-to's, or Like us on our Facebook page.

Follow us on: