Share this: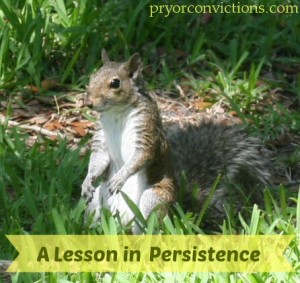 "And let us not grow weary while doing good, for in due season we shall reap if we do not lose heart."   ~Galatians 6:9
We have a bird feeder in our back yard. Our son Matthew loves birds and wanted to be able to observe them close-up so we placed a feeder on a metal shepherd's hook several feet outside our dining room window. Now we realize that squirrels love to eat bird seed so we thought we would be proactive in dealing with this problem. We placed the metal pole a few feet away from the trunk of a tree. Then we smeared Vaseline all up the pole of the plant hook so the squirrels couldn't climb up from the ground. We sat back smugly to enjoy the birds over the next few days without the interference of squirrels. It took a few days for word to get out, but the squirrels finally started converging on the site to do reconnaissance. They would stand on the ground at the base of the pole and look upward, longingly at the feeder. They didn't make any attempts to go up the pole – at first. But after a few days, one of them jumped on the pole and scrambled upward, only to slide down like a fireman on a pole. We laughed as we watched his fruitless attempts. After a few more tries, the squirrel gave up climbing the pole. We thought, "Aha!" "We have gotten the better of the squirrel population in this neighborhood!" They were not, however, to be so easily outdone. We then started noticing them climbing the tree trunk and jumping onto the metal hook that our hummingbird feeder was on. (Right next to the hook with the seed feeder.) At first, their weight made the hook sway so that they would jump down immediately, but they kept trying and soon got over the fear of the swaying hook. Eventually, success! Imagine our surprise when we saw a squirrel hanging upside down on our feeder, eating to his heart's content. Once they discovered the way to the object of their desire, there was no stopping them. They cleaned us out in a day. We moved the hook farther away from the tree to prevent jumping and once more smeared Vaseline up the pole. Within an hour, one curious squirrel was already on the ground at the base of the pole, looking up and I am sure the wheels of his little squirrel mind were already turning. Needless to say, we are still fighting an ongoing battle with the squirrels to keep them out of the bird feeder.
Now, the point is this: the squirrels had a goal – the bird feeder, and they kept their eyes on that goal and NOTHING deterred them from reaching it. They could fail once, twice, or a hundred times, but they would not quit. They worked day after day and hour after hour until they finally had success. No obstacle was too great for them to overcome. No challenge was too daunting.

Our first and foremost goal is heaven. We should have our eyes fixed on it at all times and should let NOTHING deter us from reaching it. We should be diligently working to reach our goal day after day and hour after hour. Yes, there will be times that we stumble and fall. There may even be times when we feel like an utter failure. We may be tempted to let Satan, the father of lies, convince us that we're failing miserably as a wife, a mother, a friend or as a child of almighty God. Don't believe the lie! Remember that we can do all things through Christ who strengthens us. (Philippians 4:13) There is no obstacle too great for us to overcome, no challenge is too daunting.
The apostle Paul gives us some good advice and encouragement when he tells us in Philippians 3:12-14, "Not that I have already attained, or am already perfected; but I press on, that I may lay hold of that for which Christ Jesus has also laid hold of me. Brethren, I do not count myself to have apprehended; but one thing I do, forgetting those things which are behind and reaching forward to those things which are ahead, I press toward the goal for the prize of the upward call of God in Christ Jesus." Paul realized that he had failed in the past. He realized he still had work to do because he had not already "arrived." He pressed on and kept moving forward. He kept his eyes on the goal and didn't let anything distract or discourage him from it. Don't let bad days get the better of you. Don't let past failures define you or make you throw in the towel. Press on!
There are enough squirrels in my home county to be a daily reminder of persistence. Next time you see one, think about how determined they are to reach their goals in life and then think about how determined you need to be to reach yours. With persistence, you can do it!