Share this: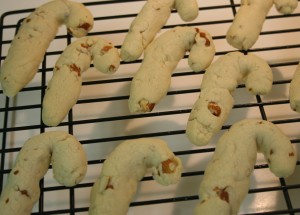 Numbers 17 records the event of Aaron's rod miraculously budding and yielding ripe almonds. These delicious almond cookies make a great VBS or Bible class snack to correspond with this Bible story. Here's how to make them…
To make these cookies, you will need:
¾ cup shortening

¼ cup butter, softened

1 ½ tsp. almond extract

1 tsp. vanilla extract

1 egg

1 cup powdered sugar

2 ½ cup all-purpose flour

1 tsp. salt

¾ cup chopped almonds
Preheat the oven to 375 degrees. In a mixing bowl, combine the shortening, butter, egg, almond extract, vanilla extract, and powdered sugar. Cream well. In a separate bowl, combine the flour and salt. Add to the shortening mixture and blend well. Stir in the chopped almonds. Doesn't that look yummy?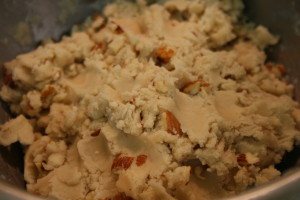 *It should be noted that the chopped almonds can be left out and you will still have a noticeable almond flavor from the extract.
To form these cookies, take a tablespoon of dough and gently roll it into a log about 5 or 6 inches long. (The chopped almonds might make it a little difficult to roll smoothly. Another option is to make plain dough and sprinkle the chopped almonds on top of the cookies and press in lightly before they're baked.)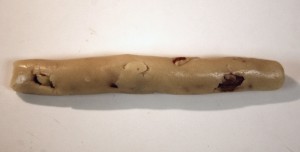 Place the logs (or rods) on an ungreased cookie sheet. Slightly curve the tops to form a shepherd's crook. Form cookies one at a time.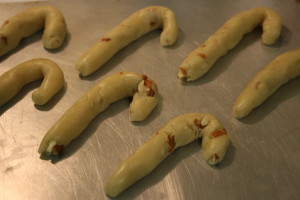 Bake for 9 – 10 minutes or until a light golden brown. Let cool slightly on cookie sheet before transferring to cooling rack. Yield: 3 – 4 dozen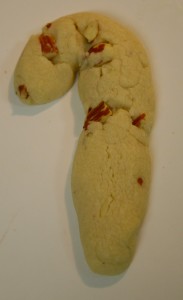 Mmmm! Grab the milk!