Share this: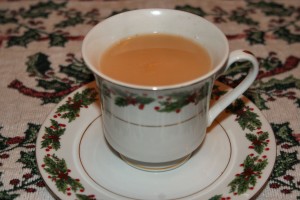 If you are like me, you love to sip on a comforting cup of tea! Here is a fragrant, spicy and delicious recipe for Chai Tea Mix. This makes a great gift to share with your tea-loving friends! A "Tea for Two" gift basket idea is included in this post as well. Let's get started, shall we? Here's what you will need to make the tea mix:
1 cup dry milk powder
1 cup powdered non-dairy creamer
1 cup French vanilla-flavored non-dairy creamer
2 1/2 cups sugar
1 1/2 cups unsweetened instant tea
2 tsp. ground ginger
2 tsp. ground cinnamon
1 tsp. ground cloves
1 tsp. ground cardamom
Mmmm! Can't you just smell the spicy goodness already? Simply combine all of the above ingredients in a large bowl until well mixed and store in an airtight container. Use 2 heaping teaspoons of mix in a cup (8 oz.) of hot water to make tea.
Here it is all nice and mixed up…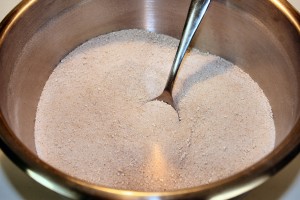 Now, let's share the love. Fill pint-size Mason jars with mix and tie a cheery ribbon around the rim. Don't forget to attach instructions for making the tea!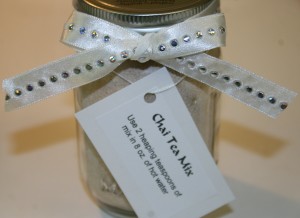 Find two pretty teacups and saucers to place in your gift basket. I found these pretty Christmas ones at a thrift store. In fact, I have found many teacup and saucer sets at thrift stores and even yard sales and have never paid over $2.00 a set.
Line your basket with a pretty tea towel or cloth napkins, then arrange the cups and saucers.  Place your jar of tea mix nestled in the center and add a box of tea biscuits or fancy cookies.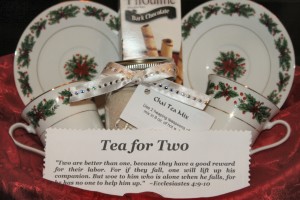 To add an extra special touch, write or print out Ecclesiastes 4:9,10 – "Two are better than one, because they have a good reward for their labor. For if they fall, one will lift up his companion. But woe to him who is alone when he falls, for he has no one to help him up" on a piece of cardstock with the words "Tea for Two" printed above it if you'd like. Place it in the front of the basket.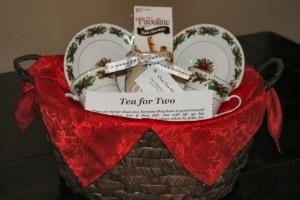 What a great gift idea! (Personally, I would love this!) This recipe and gift idea are featured in our Hearts-at-Home Cookbook.