Share this: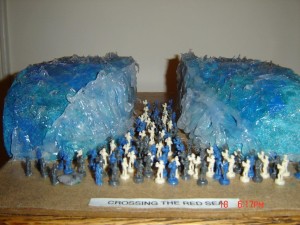 This diorama is a really cool craft idea from Lesson 8 of our Exodus curriculum that kids of all ages will enjoy making and that everyone just can't resist touching! A diorama is simply a scene in miniature. It can portray a scene from a book or a movie, capture a battle scene, illustrate a landscape, etc. Dioramas are a great visual aid to use in teaching, a lasting visual reminder of something learned, or just a neat decoration!  Here are the supplies needed to make this particular diorama:
lightweight wooden base (we used a pre-cut 10 1/4″ x 11″ piece of particle board)
sandpaper
2 styrofoam craft bricks (4″ x 8″)
model paints in colors of the sea
clear caulk
miniature people (we used figures from a Risk game)
3 or 4 small pebbles
clear craft glue
Brush craft glue onto the base and glue sandpaper on it. Trim evenly with the boar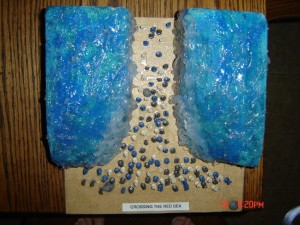 d. The sandpaper represents the sea floor. Set aside to dry. You may want to place some heavy books on top of the sandpaper while it's drying. Using a butter knife, carve curves in the front of the styrofoam bricks.  (See photo at right.) Paint the top, back and sides of the styrofoam bricks. We used two different colors of blue model paint. Let paint dry. Brush craft glue on the bottom of each styrofoam brick and secure to your base. Squirt clear caulk thinly all over the top of the bricks. While wearing plastic gloves, use your fingers to pull up pieces of caulk into waves on top of the bricks. Squirt very thick lines of caulk in an up-and-down motion along the insides and at the front corners of each brick to simulate the walls of water. Let caulk dry completely. Glue miniature people along the beach in front of the water and in between the two walls of water. Glue a few random pebbles on the sandpaper to represent rocks. Let everything dry then show your diorama off, impress your friends, and tell them the amazing story of God's power and protection of His people from Exodus 14.