Share this: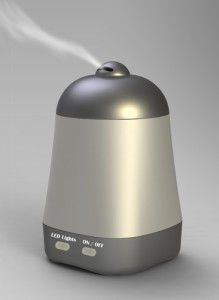 Essential oils are a popular trend these days. Just search the Internet and you will find countless links for using essential oils, as well as individuals and companies that offer them for sale. There are a large variety of oils available on the market today and all of them have a fragrance: some are pleasant, some are strong, and some are a little disagreeable. For instance, some of my favorite oil scents are lavender, geranium, orange, and lemon while others such as clary sage and tea tree tend to make me wrinkle my nose. One of the ways in which these oils can be used is to put them into a diffuser which breaks down the molecules of the oil and disperses them into the air. The scent is inhaled and stimulates the brain for such things as relaxation, concentration, or a sense of well-being. These oil diffusers work by permeation, electricity and heat. Interestingly enough, we too act as a diffuser.
In II Corinthians 2:14-15 the apostle Paul says, "Now thanks be to God who always leads us in triumph in Christ, and through us diffuses the fragrance of His knowledge in every place. For we are to God the fragrance of Christ among those who are being saved and among those who are perishing." (NKJV) Each one of us is to be diffusing the fragrance of Christ. We are to be dispersing that fragrance of the knowledge of God everywhere that we go. In order to do that, our diffuser has to work much like the oil diffuser does.
Permeation – How can we begin to diffuse the fragrance of God's knowledge if we don't first possess it ourselves? The oil diffuser won't have anything to disperse if it is not first filled up with the proper essential oils. We need to study, learn and grow in the grace and knowledge of God's Word, filling ourselves to the brim so it will overflow to others. Ephesians 3:19 tells us, "To know the love of Christ which passes knowledge; that you may be filled with all the fullness of God."
Power Source – In order for the oil diffuser to do its job, it must be plugged into a power source. Jesus Christ is our power source and it is through Him and His strength that we are able to accomplish His will. Philippians 4:13 reminds us, "I can do all things through Christ who strengthens me." If we aren't plugged in to the proper power source, our diffuser simply will not work.
Heat – After the oil diffuser is turned on, the oils inside of it are slowly heated until they reach the proper temperature to be released into the air. If we are a lukewarm Christian or a flat-out cold one, we will never have enough heat to diffuse the fragrance of Christ in our own homes, much less to the world around us. As the song says, we must "Light the fire!" in our hearts and burn not only for the word of God but for the opportunity to share it and the desire to do His will each day.
The fragrance of Christ that we are diffusing to others will have an effect, either positively or negatively. Continuing on in II Corinthians 2:16, "To the one, we are the aroma of death to death, and to the other the aroma of life to life." Just as some of the essential oils are not pleasant to smell, so some in the world will be repelled by the fragrance of Christ and the knowledge of Him. However, others will find it a welcoming and pleasing scent that they will be drawn to and want more of. Our mission is not to make people like the fragrance of Christ; that is entirely up to them. Our job is simply to be the diffusers of that fragrance as God wants us to be.
When you are at home, is your diffuser working? Do your husband and children smell the sweet aroma of Christ as you go about your daily life? Are you filling the atmosphere of your home with the fragrance of the knowledge of God?
When you are at work, social events, or even the grocery store, do others sense something different about you? Will the fragrance of Christ emanate from you and waft around them, making them take notice? Is your diffuser working when you are out and about among unbelievers?
When you are at church among your brothers and sisters in Christ, is your diffuser working? Are you letting the scent of Christ permeate the air around you so that fellow believers are encouraged and comforted by it?
Are you permeated with the word of God, filling yourself with its knowledge? Are you plugged into the proper power source and drawing your strength from Jesus Christ? Are you on fire for God and cultivating a burning desire to serve Him each day? Are you diffusing the knowledge of Christ in your home, in the church, and in the world around you? If not, now is the perfect time to get your diffuser in working order!