Share this: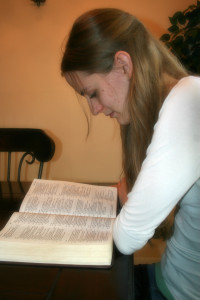 "Thy word have I hid in my heart that I might not sin against    Thee." ~Psalm 119:11
King David gave one of the most important reasons for memorizing the word of God – as a preventive measure to sin. We will all be faced with times of temptation and the best weapon we can use to combat it is the very one that Jesus himself used when he was being tempted by Satan in Matthew chapter 4. He used the Scriptures. Another reason was again given by David in Psalm 119:97 when he said, "Oh, how I love Your law! It is my meditation all the day." What better way to delight in and meditate on the word of God throughout your day than to have many memorized verses that you can call to remembrance? It is a real blessing and comfort. Scripture also serves as our guide. Psalm 119:105 states, "Thy word is a lamp unto my feet and a light unto my path."
When our children are young, they are like little sponges that just soak up and absorb all kinds of information. There is no better time to start instilling the word of God in them and helping them to memorize as many verses as they can. It will benefit us as parents as well as we learn them along with our children.
There are several ways you can memorize scripture. Pick a method that works best for you and your children and make it a joy and not a frustration. Here are a few suggestions:
Sing it! – Think about TV commercial jingles and how memorable some of them are. I learned Galatians 2:20 as a song when I was in fourth grade, and I have never forgotten it. There are multiple resources available with tunes to match Scripture, or you can make up your own tunes.
Flashcards – Start with a stack of index cards. On the first one, write out the entire verse along with the reference. On the next one, write out the verse again, but leave out a few key words leaving a blank line in their place. On the next one, do the same thing leaving out more words. On the fourth one, leave out every word except ones like I, a, an, the, of, etc. Keep reviewing these until the entire verse can be said easily.
Listen – Make an audio recording of the verse saying it several times in a row. If your child is a strong auditory learner like one of mine is, they will easily memorize it as they listen to it over and over. My son would listen to tapes and CD's as he was playing with his toys or drawing a picture and I would be amazed at how much he was absorbing from what he was listening to.
Rebus puzzle – You have seen these before. They are puzzles made up of several pictures that make words. For example, the phrase "Be nice" might be illustrated by a drawing of a bumblebee and then the letter "n"+ a drawing of an ice cube. I taught a class where all of the students memorized Proverbs 6:6-11, the "Go to the ant" passage by learning the passage from a large Rebus puzzle drawn on poster board. Some words may have to be written in if you can't come up with a picture substitute.
Games – Make a game out of memorizing scripture by making a scripture puzzle to put together or writing one word of the verse per flashcard then mixing them up to put in order, etc. Check out our pinterest board of Bible games to find more ideas.
It's not so important what method you use as long as you just do it. Fill your family's hearts and minds with the precious word of God!