Share this:








BIBLE TEXT: 
Ruth 1:5, 16-17; 2:2-3, 11-12, 20; 3:5; 4:14-15, 17
QUESTION TO CONSIDER: Do you treat the elderly with honor and respect?

BIBLE LESSON: During the days of the judges of Israel, there was a famine in the land. Because food was so hard to find, a man named Elimelech took his wife Naomi and their two sons, Mahlon and Chilion, to the land of Moab to live. While living in Moab, a sad thing happened: Elimelech died leaving Naomi behind as a widow. Being a widow in Bible times was very difficult. You can learn more about this in the "Did You Know" section of the lesson below. Fortunately for Naomi, her two sons were grown and able to marry and work. She could depend on them to help take care of her and to give her a home to live in. But then, tragedy occurred! Read Ruth 1:5 to see what happened. 
Not only is Naomi now a widow but so are her two daughters-in-law, Orpah and Ruth. Naomi doesn't have anyone to provide for her now, and she certainly has no way to provide for Orpah and Ruth. Her only hope was to return home to Israel where the famine had ended and rely on God's people to help her according to the instructions given to them in the Law of Moses. Ruth and Orpah were young enough that Naomi was hopeful they could stay in their native land and remarry. Orpah tearfully agreed to part from Naomi, but Ruth did not. Naomi urged her strongly to follow Orpah's example and stay in Moab, but Ruth insisted that she would not leave her mother-in-law. Read Ruth 1:16-17 to see the beautiful words Ruth spoke to Naomi. 
Ruth faithfully followed her mother-in-law back to Israel to live with her and to help take care of her. As two widows living together, life would have been hard for them. It would have been especially hard to provide food for themselves without money or with very little money. One of the ways God took care of this was to give instructions to the people in the Law of Moses to leave the loose stalks of grain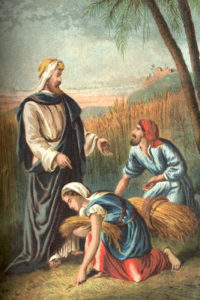 that would fall in the fields as they harvested their crops. The poor widows were then allowed to go into the fields after they were harvested and pick up the extra stalks of grain from the ground. This process was called gleaning. This is what Ruth did in order to have grain for herself and her mother-in-law. Ruth 2:2-3 tells us, "So Ruth the Moabitess said to Naomi, 'Please let me go to the field, and glean heads of grain after him in whose sight I may find favor.' And she said to her, 'Go, my daughter.' Then she left, and went and gleaned in the field after the reapers." Gleaning would have been hot hard work. Ruth would have been out in the sun, bending over to pick up grain all day. At the end of the day, she would probably have been tired and sore, but she didn't complain. She worked willingly because she loved Naomi and wanted to take care of her. 
God blessed Ruth by guiding her to glean in the fields of Boaz, a relative of Naomi's husband. Boaz was a kind man and was especially impressed with Ruth's devotion to her mother-in-law. He told Ruth not to glean in any other fields but his, and he would make sure she was able to work safely and have food each day. Ruth was very grateful to Boaz for such kindness, but she couldn't understand why he would be so good to her, especially since she was a foreigner. Read Ruth 2:11-12 to see the answer Boaz gave her. Boaz even went the extra mile for Ruth by instructing his servants to purposely leave extra loose grain for her to pick up. He knew she was providing not only for herself but for Naomi as well, and he wanted to make sure they had plenty of food. 
Naomi was thrilled with the food Ruth worked to provide them with, and she was especially grateful for the kindness of her relative, Boaz. Read Ruth 2:20 to see who else Naomi was grateful to. Ruth continued to glean in the fields of Boaz all throughout the wheat harvest. Naomi and Ruth were provided with plenty of food each day, but Naomi couldn't help thinking ahead to the future. She knew Ruth was still a young woman and should have the opportunity to be married again and have a family. Naomi wanted to see Ruth happy and provided for, so she thought of a plan. Naomi knew that Boaz was a good man who loved the Lord and tried to do what was right. She wanted to see Ruth married to a good man like him. 
Naomi gave Ruth specific instructions to approach Boaz to let him know her intentions of wanting to marry again. Ruth didn't argue or protest. She loved and trusted her mother-in-law and respected her wisdom. Ruth 3:5 says, "And she said to her, 'All that you say to me I will do.'" Ruth was obedient to her mother-in-law, and as a result, Boaz and Ruth were married. They soon had a son whom they named Obed. Naomi was thrilled! She also felt very blessed to have a daughter-in-law who loved and honored her so much. Ruth's treatment of Naomi was seen by all who lived in the city. Read Ruth 4:14-15 to see what Naomi's friends said to her about Ruth. 
Even though Ruth had been a widow herself, she took the opportunity to work hard and provide for her widowed mother-in-law, Naomi. Ruth showed her love and respect and was obedient to all that Naomi told her to do. As a result, God blessed Ruth for her kindness. Ruth became the great grandmother of a famous king of Israel. Read Ruth 4:17 to find out who he was. 
God wants us to show the same kindness and respect for those who are elderly as Ruth did. Sometimes they need help, sometimes they need care, and sometimes they just need a friend. We should always show honor and respect to the elderly, and be willing to listen and learn from their years of wisdom. It blesses them, and you might be surprised to find that it will bless you too! 
REVIEW QUESTIONS:
What country was Ruth from?
What does "gleaning" mean?
Whose fields did Ruth glean in?
How did Ruth respond to Naomi's plan for her to marry?
What king of Israel was Ruth the great grandmother of?
MEMORY VERSES:
I Timothy 5:3

 –  Honor widows who are really widows. (NKJV)

Leviticus 19:32

 – You shall rise before the gray headed and honor the presence of an old man, and fear your God: I am the Lord.  (NKJV)
WORD OF THE WEEK: Hebrew  word – hadar  (haw-dar')  הָדָר
Hadar means to honor, adorn, to swell up, be high or proud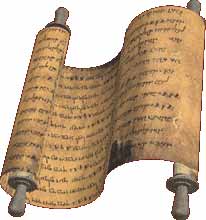 This is the word used for our English word "honor" in Leviticus 19:32.
*Hebrew was the original language of the Old Testament. Greek was the original language of the New Testament.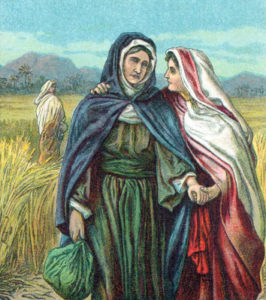 DID YOU KNOW? Widows in the Bible had a very difficult time. The loss of a husband was completely devastating to these women. It would usually mean a loss of all financial support and protection unless she had a son (or sons) who was willing and able to provide for her. She was considered among the poorest of the poor in society along with orphans. This is why the Lord put laws in place to help the widows. Read Deuteronomy 24:19-21 and Exodus 22:22 to learn more. 
ADDITIONAL ACTIVITIES:
Adopt a Grandparent – Do you know any widows or widowers in your church who may not have any family living close by or have no family at all? Start by writing a letter to someone you have chosen to adopt. Click here for a sample Adopt a Grandparent Letter. Find out some facts about your new "grandparent" such as their birthday, favorite foods, and hobbies. Make it a habit to remember them each week by making them a card, baking them a special treat,visiting them, or helping them out in some way (such as doing yard work for them). Above all, don't forget to pray for them and let them know they are loved.
Visit a Nursing Home 

– Many people in nursing homes live sad, lonely lives. They usually enjoy visits as it brings some much-needed sunshine to their day. With your family or a group of friends, make a visit to a nursing home. Try singing a couple of familiar hymns like "Amazing Grace" or "Rock of Ages." The patients usually enjoy this and sometimes like to sing along! Take some easy jigsaw puzzles to do with some of the residents or bring along a small pet for them to enjoy petting. (Get permission from the nursing home first.) God doesn't forget about these elderly people and neither should we.

Senior Citizens Appreciation Banquet 

– Organize and participate in a nice dinner to show appreciation to the elderly members of your church, family, or other group. Plan a menu and help prepare the food. Make table decorations and a small gift for each of your guests to take home. Be waiters and waitresses – serving the food, refilling drinks, and visiting each table to say hi and to check to see if anything is needed. If there are enough young people involved in this, plan a short program of songs, scriptures, and poems to entertain your guests before or after their meal. 

Sweet Bouquets: Rosebud Kisses and "Tea" Roses 

– This link takes you to the page for these crafts instructions with step-by-step photos on our website. These make nice gifts to give people anytime, but they would be especially nice to give to people listed in the first three activities. 



Ruth and Naomi coloring page  – Free printable coloring page of Ruth and Naomi. (Supercoloring.com)
If you enjoy these Bible lessons, please visit our Product Catalog  page to view our "Growing Up in God's Word" Bible curriculum for children series. Each title is an in-depth Bible study including multiple enrichment activities with each lesson such as map work, research projects, application activities, crafts, and more.