Share this: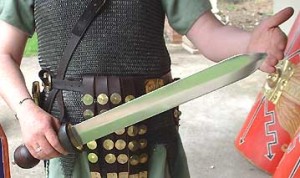 When David was preparing to face off against the giant Goliath, King Saul clothed David with his armor. David fastened the sword to the armor and tried to walk around but found it all to be too awkward. He told the king, "I cannot walk with these, for I have not tested them." (I Samuel 17:39) Instead, David went out and gathered the weapons of warfare he was all too familiar with: his sling and five smooth stones.
A good soldier keeps his weapons in good condition by keeping them sharp and ready for battle. He also practices using his weapons until they become very familiar to him. ( Just as David was quite used to using his sling and stones but was not used to wearing heavy armor and wielding a sword.) A soldier cannot fight effectively in battle if his weapons and armor have never been tested, or he hasn't used them enough to feel comfortable with them.
We as Christian soldiers need to keep our weapons of warfare in readiness and practice using them so that they are quite familiar to us. Ephesians 6:17 tells us that our sword of the Spirit is the word of God. Is your sword sharp? How familiar are you with using your Bible? Here are some strategies you can use to help you and your family practice using your swords and making them more familiar to you:
Memorization – Start by memorizing all of the books of the Bible. To make it easier, break it down into sections such as the first five books of the Old Testament (the Law), the next twelve books (history), the next five books (poetry), the next five (major prophets), and the last twelve (minor prophets). Once you have mastered these, move on to memorizing the New Testament books in the same way.
Sword Drills – These are effective for helping one quickly and easily find any verse in the Bible. Start out by doing sword drills for just the first five books of the Bible. Challenge yourself with a pre-written list of verses in those five books, or do this exercise with your family. Call out a verse, then let everyone turn to it as quickly as they can. The point is not to win a race but to practice using your sword. You are working to gain familiarity with it so that it may be more effectively used. Continue doing daily sword drills in just the first five books until they become very familiar to everyone. (Everyone can locate the verses quickly and easily.) Then move on by adding the next section of the Old Testament, the books of history. Now your sword drills will consist of finding verses in the first seventeen books of the Bible. Keep practicing and adding on books until you are able to do sword drills using the entire Bible. Here is a sword drill list of various vices and virtues in the Bible to get you started.
Daily Maintenance – A soldier never sharpens his sword just once. He has to continue to maintain his weapon so that it is ever ready for battle. Our Bibles need to be read daily and the words of God need to be imprinted deeply on our hearts. Read portions of scripture each day and take the time to meditate on the verses you've read.
Memorization – We started with memorization and are ending with it. For this step, memorize scripture. It is the ultimate way to practice wielding our sword. When Jesus was faced with the temptations from Satan in Matthew chapter 4, how did He fight back? Jesus used His sword – He quoted scripture. Having memorized and treasured up the word of God in His heart, He used it as an effective tool against Satan. Pick a verse or passage for the week. Write it on a chalkboard or marker board in your kitchen or some other place in your home where everyone will see it several times a day. Quiz each other in your memory work when you do your sword drills.
I Peter 5:8 warns us that our enemy, the devil, is walking around like a roaring lion just looking for an opportunity to devour us. Let's be good soldiers who are prepared and ready with sharp swords that we know how to use!