Share this:







Here's a couple of sweet ways to share some love! Pretty rosebud kisses and tea roses are easy and fun for kids to make and to give. Both of these ideas are great for occasions such as Valentine's Day, Mother's Day, birthdays, anniversaries, or just because! Here's what you will need…
Rosebud Kisses:
chocolate candy kisses
colored cellophane
floral wire
floral tape
artificial leaves (optional)
glue dots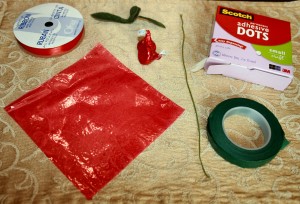 First, use a glue dot to secure two chocolate kisses together, wide end to wide end.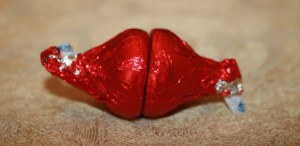 Kissing kisses! How cute! Next, cut a 5 inch by 5 inch square of colored cellophane. (I used a large cellophane basket wrapper from the dollar store and cut it up.) Center the tip of one kiss in the middle of the square, then bring the cellophane down around both kisses and twist tightly at the base.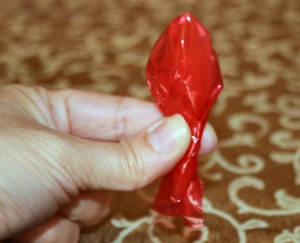 See? Starting to look like a rosebud, isn't it? Now you will need to place a floral wire next to the base of the kisses and hold it with your fingers while you start to wrap with floral tape. Wrap floral tape around the base of the kisses and the floral wire several times to build up a thickness, then start wrapping the floral wire down tightly around the stem.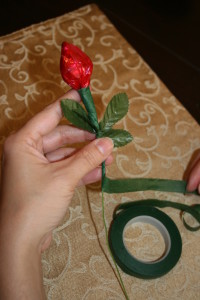 If you like, you can add some artificial leaves toward the top of the stem and secure them to the stem with the floral tape. Continue wrapping the stem very tightly with the floral tape until you reach the bottom. Trim. Now you have a finished rosebud. You can make one or two tied with a pretty ribbon, or you can make a whole bouquet and place them in a pretty vase or wrap them in colored tissue paper like a florist's shop.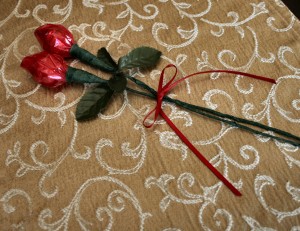 Tea Roses:
5 packets of tea (Twinings and Bigelow brands come in individual packets)
chocolate candy kisses
glue dots
wooden skewers
floral tape
For the tea lover, here is a cute flower made up of tea bags and sealed with a kiss in the middle! First, you will need to take each tea packet, turn them over and fold the top two corners toward the back.
Once you've done that, you will have your five "petals". Using small glue dots, start securing the petals together overlapping one edge over the last edge.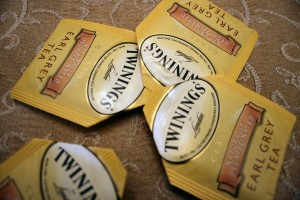 After gluing from the front, turn the tea flower over and secure with glue dots on the back.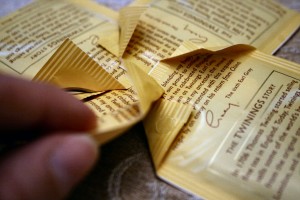 Turn the flower back over and glue a chocolate kiss in the middle of the tea flower with a glue dot.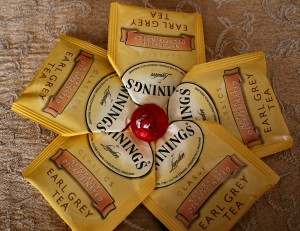 For the stem, wrap a wooden skewer tightly with floral tape from top to bottom. Trim.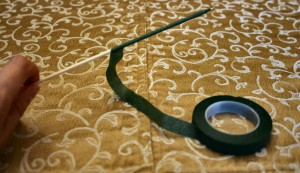 Turn tea flower over and place the top of the skewer under two flaps. Secure tightly with glue dots.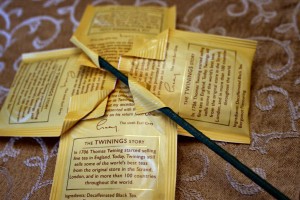 Now you have a "tea" rose! You can make a 4 or 5 petal variety. You can use all of one kind of tea bag, or you can mix and match different flavors for different colored petals.