Share this: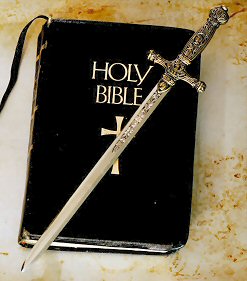 Sword Drills
A good soldier keeps his weapons in good condition by keeping them sharp and ready for battle. He also practices using his weapons until they become very familiar to him. Ephesians 6:17 says that the sword of the Spirit is the word of God. Let's sharpen our swords by locating several scriptures throughout the Bible that talk about various virtues and vices. Everyone needs their own Bible for this activity. As the following scriptures are called out, let everyone turn in their Bibles to locate the verse as quickly as possible. The first person to find the verse may read it out loud, although time should be given for everyone to turn to the verse. The point is not to win a race but to practice using your sword. Gather your family or friends and get more familiar with your Bibles. Ready, set, drill!
Confidence: Hebrews 10:35; Psalm 27:3; II Timothy 1:7; Psalm 56:3; I John 5:14.
Courtesy: Colossians 4:6; Leviticus 19:32; I Corinthians 10:27; Luke 7:44; Titus 3:1-2.
Envy: Job 5:2; James 3:16; Exodus 20:17; Galatians 5:19-21; Ecclesiastes 4:4.
Favoritism: James 2:9; Romans 2:11; Deuteronomy 10:17; Ephesians 6:9; Job 13:10.
Happiness: John 16:24; James 5:13; Philippians 4:4; John 15:10-11; Nehemiah 8:10.
Integrity: Psalm 41:12; Job 27:5; Psalm 26:1; Titus 2:7; Psalm 25:21.
Stealing: Ephesians 4:28; Exodus 20:15; Malachi 3:8; Matthew 6:19; Romans 13:9.
Stubbornness: II Kings 17:14; Nehemiah 9:16; Jeremiah 44:16; Exodus 32:9; Psalm 81:11-12
This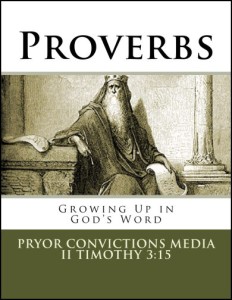 activity was taken from Lessons 11 & 12 of the Proverbs study from the Growing Up in God's Word series.
For more tips on building a greater familiarity with your Bible, check out the blog post Sharpen Your Sword!