Share this: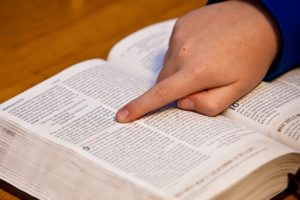 Choose – Before the week starts, pick a list of six verses, one for each day Monday through Saturday, or pick one verse or passage to focus on the entire week. To help get you started, check out the list of scriptures in our Bible Copywork for Kids post. This list includes the topic or focus of each verse or passage such as courage, contentment, and complaining.
Introduce – First thing in the morning (or when everyone is coherent), introduce the verse for the day. You may want to have each family member write the verse out on a card or do this ahead of time and hand them out. You could also write it on a decorative chalkboard, schoolroom whiteboard, etc. where it is highly visible to everyone throughout the day.
Memorize – Use your favorite method to memorize the verse or look at some of the suggestions in this post, Memorizing Scripture. Everyone can work on this together or do it individually if each has their own preferred method of memorization.
Meditate – Encourage meditation of the scripture. Throughout the day, remind everyone to be thinking about the verse so they can share their thoughts about it later in the evening. This promotes the habit of keeping God's Word actively in our minds through the day and how to focus on its meaning and apply it. I will meditate on Your precepts, and contemplate Your ways. ~Psalm 119:15 
Discuss – At the dinner table, family devotion time, or bedtime, take time for everyone to talk about what they learned from the verse or passage. For example, if everyone meditated on

Philippians 2:14, 

Do all things without murmuring and complaining

, maybe one person thought about how displeased God was with all of the complaining Israel did in the Old Testament and all of the resulting consequences. Maybe another person thought about how much of a struggle it is to keep from complaining and how it is something they need to personally work on. It's great to share each other's thoughts and lessons learned from the same scripture. Many times, someone will share something about a verse that you had not thought of before, and it will give you even more to meditate on.
Hiding God's Word in our hearts and meditating on it day and night is key to keeping our focus firmly fixed on the Lord, and it is never too early to get our kids in the practice and habit. I hope these suggestions will help you and your family as you "meditate in it day and night, that you may observe to do according to all that is written in it." ~Joshua 1:8